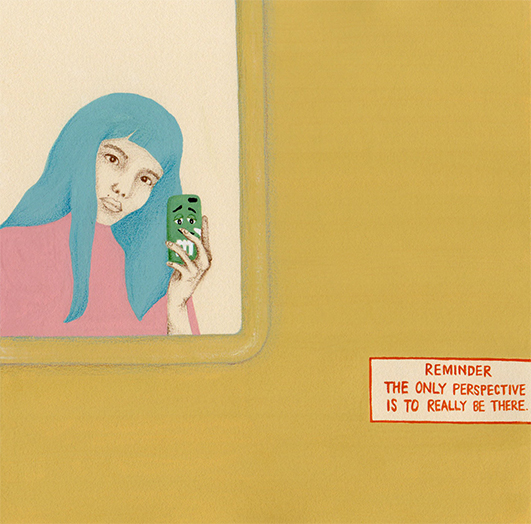 張梓鈞  Tzu-Chun Chang
Chun is a Taiwanese illustrator and picturebook maker with an MA in Children's book illustration from Cambridge School of Art and a BA in Motion picture from Taiwan University of Arts.
Her work is sensitive and tranquil, mainly focused on relationships and socio-political issues. She enjoys playing with metaphors and leaving space for people to interpret. She loves film, philosophy as well as nature and would love to do more book / editorial illustrations. Her aim is to capture the magic in the mundane and to tell stories about difficult subjects in an approachable way. 
Her debut author-illustrator picturebook Today is the Day, published in Taiwan in 2021, is selected for 2022 Bologna Ragazzi Award The BRAW Amazing Bookshelf. Her debut non-fiction Quién Soy is published in Spain by Zahorí Books.
畢業於臺藝大電影系及劍橋藝術學院童書插畫研究所,出生台中的自由插畫工作者、繪本創作者、講師。
喜歡電影、哲學、大自然。創作題材多圍繞在平凡日常裡人與他者的關係,善於在畫面中創造時間感與敘事性,為觀者留下想像的空間。
作品散見於國內外刊物,獲得波隆那兒童觀眾賽、美國3×3獎、英國麥克米倫獎、中國金風車國際青年插畫家等國際獎項肯定。首部繪本《今天Today is the day》獲選為2022波隆那拉加茲獎的一百本好書。2023年於西班牙出版繪本《Quién Soy》並售出多國版權。
  ﹋﹋﹋﹋﹋﹋﹋﹋﹋﹋﹋﹋﹋﹋﹋﹋﹋﹋﹋﹋﹋﹋﹋﹋﹋﹋﹋﹋﹋﹋﹋﹋﹋﹋﹋﹋
contact: 
tzuchun.contact@gmail.com
Selected Clients
Global Goals (UN), Flagrant Magazine (US), Oh Magazine (UK), Popshot Magazine (UK), Breathe (UK), The Feminist Book Box (UK), Fleurs Des Lettres (HK), Gaston Luga (SE), 
ARTouch典藏, 靛花, 聯經出版, 三民書局, 時報出版, 幼獅文化, 500輯, Verse, 新活水, 安妮新聞, 釀電影, Fa電影欣賞, 觀.臺灣, 鄉間小路, 兒童哲學雙月刊, 國語日報, 衛武營《Call Cue青少年》, 臺北客家書院, 新竹生活美學館, 忠泰集團, 宜得利
Recognitions
2023 Bologna Children's Book Fair – Italian Excellence. Illustrations for Italo Calvino / Winner
2022 Bologna Ragazzi Award the BRAW Amazing Bookshelf / Selected
2021 The Children-Spectators for Bologna Children's Book Fair / Selected Illustrator
2021 Bologna Children's Book Fair Illustrators Exhibition / Finalist
2021 dPICTUS The Unpublished Picturebook Showcase 3 / Selected
2021 A Well Designed Book-Let's Start With Children / First Prize 
2021 Picturebook workshop for National Human Rights Museum (TW) / Third Prize
2020 The Children-Spectators for Bologna Children's Book Fair / Selected Illustrator
2020 dPICTUS The Unpublished Picturebook Showcase 2 / Selected

2020 Golden Pinwheel Young Illustrators Competition / Finalist
2020 3×3 Illustration Awards / Honorable Mention
2019 3×3 Illustration Awards / Honorable Mention
2019 The Macmillan Prize / Highly Commended
2019 Creative Conscience Awards / Shortlisted
Exhibitions
2021 Today is the Day / Solo exhibition_ Taipei, Taiwan
2021 Our Home / Pop-Up Shop_ Taipei, Taiwan
2020 Practice On Returning Home / Solo exhibition_ Taipei, Taiwan
2019 The Good Old Days / Group exhibition_ Taipei, Taiwan
2019 The Macmillan Prize / Group exhibition_ London, UK
2017 The Zinery / Group Exhibition_ Taipei, Taiwan
2016 My Planet Zine Fest / Group Exhibition_ Kaohsiung, Taiwan
2016 Mission In Animals / Group Exhibition_ Taipei, Taiwan 
Lectures & Talks
2022 新竹生活美學館 / 新住民暨移工母語繪本創作培力計畫教學
2022 dPi大賞 / 講座 
2021 台北國際書展 / 閱讀沙龍講座
2020 臺北客家書院 / 手製書教學
Press & Interviews
2023 小日子
2022 dPi
2022 藝享會客室 Youtube
2022 黑暖話舖 podcast
2022 人間福報
2022 後青春繪本館
2020 FLiPER Magazine
2020 dPi Magazine Vol.248